National Parks of the Tweed Volcano Region
Northern Rivers and Gold Coast hinterland
"They took all the trees, Put 'em in a tree museum"*
Photos © by D & J Palmer, Big Volcano Tourism
Brief descriptions of the national parks in the Northern Rivers, NSW, Gold Coast hinterland and Scenic Rim, QLD, region of Australia.
---
Webmaster: Advisories on this page checked/updated: Tuesday 25 July 2023.
Some Northern Rivers region local closures include part park closures (Wollumbin NP), due to flood or bushfire damage, or for upgrades to camp grounds, facilities, walking tracks etc. Please check all alerts list for the full list of NSW national parks closures before planning your visit.
Please also check any park alerts current for Gold Coast and Scenic Rim parks.
ARAKWAL NATIONAL PARK (183 ha)
Stretching south along Tallow Beach from Cape Byron for nearly two kilometers, the creation of this coastal park is the result of the first indigenous land use agreement in Australia.
The area provides habitat for significant flora and fauna species, including wintering sites for nomadic and migratory birds and flying foxes and is also home to the Cibum Margil Swamp, a declared coastal wetland. Also highly significant to local indigenous people for thousands of years, it contains important Aboriginal mythological and burial sites and campsites.
Old four wheel drive tracks parallel the beach, and informal sand tracks for people on foot, meander through the coastal heath, which comes alive in Spring with native birds and animals feasting from a myriad native shrubs, bushes and grasses, in bloom.
The Arakwal Aboriginal people are the acknowledged custodians of the Byron Bay area and retain a strong role and interest in the maintenance, protection and management of Aboriginal cultural values.

BORDER RANGES NATIONAL PARK (30,508 ha)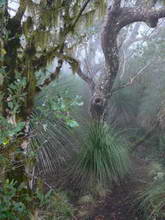 Easy access to the rainforests is a feature of this spectacular World Heritage area.
The 64km Tweed Range Scenic Drive can be reached via the Wiangaree turn off on the Summerland Way north of Kyogle, or the Barkers Vale turn off on the Murwillumbah - Kyogle Road.
Day use picnic areas, shelter sheds and spectacular views are available at Bar Mountain, Blackbutts Lookout and Antarctic Beech Picnic areas.
A large camping area is provided at Sheepstation Creek, with a smaller one at Forest Tops. Both areas provide (non drinking) water, shelter sheds, firewood and composting toilets.
There are a variety of walks in the park, ranging from 50 metre strolls to 10 kilometre hikes, most starting from day picnic or camping areas. (Some walks are currently closed due to storm damage.)

BROADWATER NATIONAL PARK (3,737 ha)
Covering 3800 hectares and located between the villages of Evans Head and Broadwater on the Pacific Highway, Broadwater National Park preserves one of the most outstanding areas of coastal heathland in New South Wales, where in Spring, wildflowers explode in a kaleidoscope of colours.
The park is home to paperbarks, bush pea, bush orchids, black sheoaks, roughbarked apple, red and yellow Christmas bells, swamp lily and brilliant flowering banksias. For the bird watcher, the three kilometre return walk at Salty Lagoon is worthwhile.
Picnic facilities are provided at Broadwater Beach and at the Broadwater Lookout area, where a high vantage point offers an uninterrupted view over a mosaic of heathland communities reaching all the way to the Pacific Ocean.
Entrance is via a sealed road from the Pacific Highway at Broadwater or Woodburn.
BUNDJALUNG NATIONAL PARK (17,699 ha)
Located between the coastal villages of Evans Head and Iluka, Bundjalung National Park offers something for everybody - kilometres of unspoilt beaches, spectacular coastal heathland and one of the most pristine coastal river systems in New south Wales. The fishing is good too!
Modern camping and caravan facilities, including hot showers and a kiosk, are available at Woody Head.
Bookings, especially during school holidays, are essential - ring (02) 666 6134 to secure a site. Elsewhere, 50 low key campsites are provided at the Black Rocks Rest Area in the centre of the park, just turn off south of Woodburn on the Pacific Highway.
Picnic areas for day visitors are provided at Shark Bay, Frasers Bluff and Back Beach. Gumma Garra picnic area, located adjacent to the fishing village of Evans Head, offer further opportunities for bushwalking, fishing or just spending a relaxing day with the family.

BURLEIGH HEAD NATIONAL PARK (27.6 ha)
Burleigh headland is a prominent Gold Coast landmark, and was first set aside as a reserve for public purposes in 1886. Gazetted as a national park in 1947, it is now the only rocky headland on the Gold Coast that is substantially in its natural state.
Covering over 27.6ha., Burleigh Head National Park contains a variety of habitats including lowland rainforest, eucalypt forest, pandanus groves, tussock grassland, coastal heath, mangroves, creeks, rocky foreshore and beaches. It also contains interesting geological forms and is of important cultural heritage significance to the Kombumerri Aboriginal people.
The park provides a popular recreational and educational venue for local and international visitors and is one of the most heavily visited parks in the region. Visitors may glimpse humpback whales breaching in coastal waters during winter and spring, see white-bellied sea-eagles riding the ridge updrafts, or watch birdwing butterflies feeding on rainforest nectars in mid-summer.

CAPE BYRON MARINE PARK (22, 073 ha)
Created 2002, Cape Byron Marine Park is a multiple-use marine park which includes protected areas where fishing and collecting are prohibited, and general-use areas which support both commercial and recreational fishing.
Grey Nurse shark Photo © courtesy Tim Hochgrebe
This park protects a diverse range of coastal landscapes, including a variety of marine ecosystems and habitats, and marine features such as Cape Byron, Julian Rocks and 'the Moat' at Lennox Head.
Local marine habitats include a range of sandy beaches and rocky shores, rocky reefs, submerged pinnacles, coral communities, riverine estuaries, coastal creeks and lakes, and a variety of sandy seabed habitats.
Marine life includes dolphins, seabirds, turtles, fish, seaweeds, and invertebrates such as sponges, corals and anemones.
Threatened marine species that occur in the Cape Byron Marine Park include little terns, grey nurse sharks and sea turtles. Humpback whales travel through the park on their annual migration and Cape Byron is a prime site for whale-watching, while the surrounding shorelines are popular with walkers.
Sites within the marine park that have been identified as particularly culturally significant to Indigenous people include Julian Rocks, Cocked Hat Rocks, Cape Byron and beaches around Broken Head.
Cape Byron Marine Park extends from the Brunswick River to Lennox Head and from mean high water out to three nautical miles from the coast or islands. It includes the tidal waters of the Brunswick River, Belongil and Tallow creeks as sanctuary or habitat zones. Visitors planning on fishing or harvesting should be familiar with the zoning plan.
Swimming, surfing, scuba diving, snorkelling, SUP and kayaking (especially in the sheltered reaches of the Brunswick River) fishing and boating, are popular activities in the waters of the park.
Camping is available at holiday parks adjoining the marine park and coastal nature reserves, while a variety of accommodation options are available in nearby coastal villages.
For more information check out the NSW Marine Park Authority's website for the Cape Byron Marine Park Zoning Plan Users Guide, available as a PDF download.
DAVID FLEAY WILDLIFE PARK
Nestled in the heart of Burleigh Heads, David Fleay Wildlife Park offers visitors a unique wildlife eperience.
Stroll through rainforest, wetland and eucalypt forest, where you can safely view native Queensland wildlife displayed in natural habitats, from boardwalks specially constructed for wheelchair and stroller access.
See crocodiles, "Hands-on" area in "Nature's Playground" for children, and daily wildlife presentations including Crocodile Talk and Snakes Up Close!
Check out the full range of Things to Do at Fleay's.
A single entry Family ticket (2 adults and up to 4 children) is $54.90* with concession prices and annual passes available.
*As at 21 June, 2017.
The park is open daily, with a cafe and small shop with souvenirs, educational toys and books. Hours are from 9.00 am to 5.00 pm seven days a week, every day except Christmas Day and Anzac Day morning. The cafe is open from 10.00 am to 2.30 pm, and the nocturnal house is open from 11.00 am to 5.00 pm. Enquiries: QLD PWS (07) 5576 2411. >> Web site.
Access from Gold Coast and Pacific Highway. Or take the scenic rim route from the Tweed Valley via Tomewin and Tallebudgera Valley.
KOREELAH NATIONAL PARK
30 klm west of Woodenbong you can experience one of the State's western-most rainforest areas.
Pockets of World Heritage listed rainforest hug the steep slopes below Acacia Plateau and Mt Wilson, while a small grassy area beside Koreelah Creek provides a pleasant car based camping spot with BBQ, picnic and toilet facilities.
You might be lucky enough to see the endangered double-eyed fig parrot or black -striped wallaby.
The unsealed road is suitable for 2WD in dry weather. Ref.
LAMINGTON NATIONAL PARK (20,200 ha)
Home of the largest preserved sub-tropical rainforest in Australia, this World Heritage declared park covers over 20,000 hectares, and features many natural wonders with its breathtaking views into deep valleys and cascading waterfalls over sheer mountain cliffs.
There are 170 species of rainforest plants and 38 varieties of animals, many found only in this part of Australia.
For the keen bushwalker, there is over 160 kilometres of graded walking tracks (trails), with easy access to many places of interest.
Subtropical rainforest, magnificent views, waterfalls and colourful wildlife make this park one of the most popular in southern Queensland for day
Extensive walking track systems lead to many points of interest. Private lodges and kiosks are located at Green Mountains (O'Rielly's Guesthouse) and Binna Burra.
Green Mountains has a picnic area where you can meet the wildlife if you are patient. Campsites, $3.85 per person, are often full during weekends and holidays, so book well ahead.
Bring fuel stoves only and enough petrol for your return journey. Access via Canungra. Enquiries: Q. NPWS phone (07) 5544 0634 from 1pm to 3.30pm Monday to Friday.
Binna Burra is located in the east of Lamington. Walking tracks weave through a diverse range of open forest and rainforest. Picnic facilities afford spectacular views of the coast and hinterland. Access via Beechmont from Nerang or Canungra. Visit the Binna Burra Information Centre. Private camp ground. Enquiries: Q NPWS phone 13 74 68.
MALLANGANEE NATIONAL PARK
Created in January 1999 and covering an area of 1,144 hectares, Mallanganee National Park (formerly Mallanganee Nature Reserve) is located south of Mallanganee village.
The primary attraction is Mallanganee Lookout, which offers spectacular views over the Richmond Valley and to Mount Warning in the east. There are no facilities in the park.
MEBBIN NATIONAL PARK (3,760 ha)
Originally a state forest, Mebbin National Park shares an extensive western boundary with the Border Ranges National Park.
Comprised of mixed hardwood species with an unusual combination of Hoop pine and Ironbark, it was logged intensively for 30 years prior to its converting to national park in on January 1st 1999.
Mebbin Lagoon Flora Reserve, one of two former reserves (the other being Forty Spur Flora Reserve) are the inaccessible World Heritage areas within the park.
The Cutters Camp campground is limited to 15 camping sites, and due to the unsealed access road and the camping area layout, it is suitable for tents, small camper trailers and small campervans only, not for full sized caravans or motor homes.
Facilities include historic forestry huts, picnic shelters and tables, wood fireplaces (bring your own firewood), gas/electric barbecues and composting/non-flush toilets.
A significant portion of the park is dry eucalypt forest, with some rainforest and a small section of old growth forest. A recently upgraded walking track of about 450 metres leads from the campground to Byrrill Creek, meandering through a stand of ancient giant figs.
The park ideally lends itself to leisurely strolls and bicycle riding along the unsealed through road. Just keep an eye out for 4WD and motorcycle riders. Access is via Kunghur and Tyalgum.
MT BARNEY NATIONAL PARK
Rugged mountain peaks rise above the surrounding landscape in this wild, beautiful, World Heritage-listed park, popular with bushwalkers and home to many rare animals, plant species and communities.
The unique qualities of this rugged area were recognised in 1947 and again in the 1950s, when a number of the separate peaks in the area were declared national parks.
In 1980 these were combined to form Mount Barney National Park which, as part of the Central Eastern Rainforest Reserves of Australia (now Gondwana Rainforests of Australia), was World Heritage listed in 1994.
The distinctive peaks of Mount Barney, Mount Maroon, Mount May, Mount Lindesay, Mount Ernest, Mount Ballow and Mount Clunie make up Mount Barney National Park. These rugged peaks are the remains of the ancient Focal Peak Shield Volcano which erupted 24 million years ago. Mount Barney is the second highest peak in south-east Queensland.
The park has extremely varied vegetation with open forests around the foothills of the peaks, subtropical rainforest above 600 m and montane heath shrublands towards the summits. The summit of Mount Ballow is cool temperate rainforest, and on Mount Maroon it is mallee eucalypt shrublands.
Many rare and unusual plant species grow in the park including the endangered Maroon wattle Acacia saxicola, the rare mallee ash Eucalyptus codonocarpa, Mount Barney bush pea Pultenaea whiteana and Eucalyptus michaeliana.
Camping Car-based camping is not available in Mount Barney National Park but is permitted nearby at Mount May Reserve (no facilities) and at three privately run campgrounds just outside the park. The private campgrounds have toilets, showers and barbecues. Mount Barney Lodge campground is near Yellow Pinch Reserve. Bigriggen and Flanagans reserves are closer to the Boonah - Rathdowney Road.
Walk-in bush camping is permitted at several sites in the park. There are no facilities at any of these sites and there are limits (subject to change) on the number of people who may camp at each campsite. Campsites may be closed from time to time to allow for regeneration or during periods of high fire danger.
To camp in the national park you will need to buy a camping permit well in advance; it is recommended that you book 6 to 8 weeks in advance for public holidays. To camp at all other locations in the national park it is essential to buy a camping permit 3 to 6 weeks in advance.
Bush campers should expect rugged conditions with no facilities, and are requested to read and follow the guidelines for staying safe and for minimal impact bushwalking. Ref.
Access is via Rathdowney in QLD.
MOUNT JERUSALEM NATIONAL PARK
Updated
No facilities are currently in place, and 4WD access is via old logging tracks and historic "through roads", to this previously strictly limited area which is rich in conservation and cultural values. The park contains areas of unique coral lichen and a number of nationally listed rare and endangered plants, as well as a rich diversity of tree dwelling animal and bird species. A number of significant aboriginal sites have also been identified.
NSW National Parks and Wildlife Service (NPWS) is currently undertaking a range of projects to enhance visitor facilities and create new visitor experiences in Nightcap National Park, under the "Tweed Byron Hinterland Trails" project, which includes plans for Mount Jerusalem NP. These also intend to also reduce visitation pressures on Wollumbin / Mt Warning NP.
---
Webmaster: Advisories on this page checked/updated: 4pm, 1st June, 2022.
Some Northern Rivers region local closures include full park closures (Wollumbin NP), or part closures due to flood or bushfire damage, or for upgrades to camp grounds, facilities, walking tracks etc. Please check all alerts list for the full list of NSW national parks closures before planning your visit.
Please also check any park alerts current for Gold Coast and Scenic Rim parks.
---
NIGHTCAP NATIONAL PARK (4,945 ha)
Updated 3rd january 2022
Located on the southern flanks of the Mt. Warning shield volcano, Nightcap National Park is a bushwalkers paradise, with a selection of short walks available from Rummery Park and Minyon Falls picnic areas in the eastern section of the Whian Whian SCA, including a half day hike from the top of Minyon Falls to its base.
Numerous mountain bike trails (courtesy of previous logging and forestry activities) are also a popular feature of this park.
All picnic areas have electric BBQ's, picnic tables with shelters and toilets.
Recently upgraded visitor facilities at Minyon Falls includes graded pathways for independent wheelchair access, an expanded picnic area, new shelters, an education space, more toilets and increased parking capacity.
Walks ranging from easy to moderate, and moderate - hard, including the overnight bush camping Historic Nightcap Track, are also accessible from the Mount Nardi picnic area, reached via a sealed road from the colourful village of Nimbin.
Mount Nardi also provides access for the short Pholis Gap and Mount Matheson walks, both under 4km in length, and under 3 hours walk.
Accessible only via The Channon, a must see for many visitors is the separate Terania Creek picnic area, which includes a short 1.4km return walk to the spectacular Protesters Falls.
Please note that swimming is not permitted in the pool below Protestors Falls, due to the negative impact of sunscreens and insect repellents on native inhabitants, including the endangered Fleay's Barred Frog.
Photo © Big Volcano, Protesters Falls boardwalk track
The name "Nightcap" is believed to be a corruption of "night camp", from the original Nightcap track, when timber getters, travellers and postal workers used the track between Lismore and Murwillumbah in the late 1800's and early 1900's. Courtesy T. Snellgrove.
Whian Whian State Conservation Area (SCA)
A former state forest, Whian Whian State Conservation Area (SCA) was created in 2003 to protect an area surrounded by Nightcap National Park. It can be reached via Dunoon, Corndale, Federal or Eureka by way of Lismore, Bangalow and Mullumbimby.
Rummery Park Campground
You can camp or picnic in the rainforest at Rummery Park - a former logging camp. There's easy access where you can enjoy some of the day walks, or BYO bike and enjoy a mountain bike ride along the various tracks, or get a guided tour through a veritable nature park.
Rummery Park campground facilities include picnic tables, showers, toilets and shelters. It is very popular during school holidays, and with overnight bushwalkers trekking the Historic Nightcap track from Mount Nardi, about 18km to the west.
The campground is maintained by NSW NPWS, while the SCA assets (forest, flora and fauna) are under State Forest control for their "potential exploration".
RICHMOND RANGE NATIONAL PARK
Formerly a NSW State Forest, Richmond Range National Park is located 40 km west of Casino and Kyogle, and is accesible via Mallanganee, Bonalbo and Woodenbong.
Co-managed with the Githabul People, Richmond Range National Park and World Heritage listed Cambridge Plateau is renowed for the rare Richmond Range spotted gum and extensive old-growth forest supporting a huge variety of native fauna, including many rare and endangered species.
At the northern end tent camping ($) is available at Peacock Creek. Two walking tracks, one short and one of about two hours walk, begin at the Cambridge Plateau Picnic Area which has BBQ, picnic tables and toilets. Please note; roads are closed in wet weather.
SPRINGBROOK NATIONAL PARK (425 ha)
Springbrook National Park consists of four distinct sections: Springbrook Plateau, Natural Bridge, Mt Cougal and Numinbah. Each with their own features and charms, access is a half hour drive from the Gold Coast or 45-60 minutes via Murwillumbah and Chillingham.
Springbrook Plateau section:Waterfalls cascade over the spectacular cliffs in this section. Lookouts offer scenic views of mountains, canyons and coastline to the north, with "Best of All" lookout being the most spectacular, offering stunning views over the Tweed Valley and Mount Warning, to the south.
Extensive walking tracks lead through open forest and rainforest. Picnic areas are available. Camping is available at "The Settlement", a camping area with 11 sites suitable for tent camping. Bookings are required via the website. (Local secret. Avoid the day visitor crowds going to Purlingbrook Falls using the over-popular Gwongorella parking and picnic area, and get a car park by driving to The Settlement Day Use area off Carricks Road, 1km or so further along Springbrook Rd. It's a lovely walk to the falls via a path less travelled. And there's a large open space, next to undercover picnic tables and toilet facilities to enjoy a picnic lunch or snack. But like we said, ssshhh.... It's our little secret.)
Access is via the Gold Coast-Springbrook Rd from Pacific Highway at Mudgeeraba, the Nerang-Murwillumbah Rd from Nerang, and from Numinbah Rd via Murwillumbah and Chillingham in the Tweed Valley.
Natural Bridge section: Water and time have formed this unusual geological feature in the dense rainforest. Day picnic facilities, with coin operated electric BBQ's and public toilets are available, but no camping is permitted. Access is via the Nerang-Murwillumbah Road.
A circular walking track leads you through the rainforest and along a creek bank. Don't miss the opportunity to explore the "Natural Bridge" formation, where a waterfall plunges through the roof of a cave into a beautiful sun-dappled rainforest grotto, which is home to glow-worms, bats and other denizens of the dark.
The spectacular glow-worm colony can only be seen after dark – don't forget to take a torch with you!
Please note: smoking in the cave and touching the walls is not permitted, as this can disturb the fauna and damage their local environment. You can enjoy the natural delights of the cave by allowing yourself 5 to 10 minutes of quietly standing, as your eyes and ears adjust to the surroundings, and you become aware of the sights, sounds and scents, which are around you.
To protect the park's natural values and for public safety, all access to Cave Creek is now prohibited. This area has been declared a restricted access area. Rangers regularly patrol Natural Bridge and persons found within the restricted access area will be fined $225. For more information please read Natural Bridge's Cave Creek restricted area information.
There are two alternatives for swimming near Natural Bridge: Bochow Park, 4km north towards Nerang; and Numinbah Forest Park, 15km north of Natural Bridge.
Mt Cougal section: While most of the section is untracked and mountainous, a day picnic area at "Cougal Cascades" provides car parking, picnic tables, public toilets and a sealed walking track suitable for wheelchair access. Further along the track are the restored remains of an old sawmill dating from 1914.
Access to the creek is strongly discouraged as several people have died or suffered serious spinal injuries after jumping or diving in this water. Access is available via Currumbin Valley (Gold Coast) and Tomewin via Murwillumbah.
Numinbah section:Gazetted in 1915 as state forest covering 2258ha, the forest's recreational values saw the Numinbah Forest Park picnic area developed in 1978. In 2002 the area's conservation and recreational values were recognised through the South East Queensland Forest Agreement, and Numinbah State Forest was transferred to Queensland Parks and Wildlife Service.
Numinbah Forest Reserve was gazetted as part of Springbrook National Park in 2008 with a few trails remaining on the forest reserve for bushwalking, mountain biking and horse riding access. Access is via the Nerang-Murwillumbah Road.
Cabins, cottages and chalet style accommodations are available on private properties adjacent to the various sections of this popular and accessible park.
TAMBORINE NATIONAL PARK
Tamborine Mountain is the northern most point of what once was a large shield volcano centred on Mount Warning, active over 23 million years ago.
Really a plateau, Tamborine Mountain National Park is in fact made up of nine national parks, including Queensland's first national park, Witches Falls, declared in 1908.
The plateau is a world of subtropical, eucalypt and cycad rainforests featuring an abundance of easy walks and magnificent views to the Gold Coast in the east, and the national parks of the Scenic Rim to the west. (Photo courtesy David Sharpe)
TOOLOOM NATIONAL PARK
The 4380 hectare Tooloom National Park is located 10 km southwest of Urbenville on the Koreelah Range.
The Range is one of three almost parallel volcanic ranges extending south from the 23 million year old Focal Peak Volcano system whose main centre of eruption was nearby Mount Barney in South East Queensland.
The park contributes to a dramatic regional landscape of ranges, dissected plateaus and valleys. The diversity of topography and soils is responsible for creating a variety of microenvironments that support a range of vegetation and habitat.
The extensive subtropical and forest red gum stands protected within this park provide habitat for the most diverse kangaroo and wallaby (macropod) population found anywhere in Australia.
Early exploitation of cedar in the Park area occurred from 1880, some years later than the coastal forests of upper north east New South Wales because of the remoteness of the area. European settlement began in earnest around the turn of the century and focused on timber harvesting and saw milling.
An area of subtropical rainforest on either side of the Legume Road is known as Tooloom Scrub. The name Tooloom was originally given to the township of Urbenville and 'Tooloom Scrub' initially referred to the entire forested area around the town.
Tooloom Scrub later became he name of the State's first flora reserve, dedicated in 1937, with large additions gazetted in 1984, and included on the World Heritage list in 1994 as part of the Gondwana Rainforests of Australia. Ref.
Tooloom Falls Aboriginal Place
Created in December 1977, Tooloom Falls is a public recreation reserve which is surrounded by national parkland, with picnic facililties and a camping ground above the falls.
This special place is on the traditional border between the Githebul/Gidabal and Wurlavul language groups, and remains significant to the local Aboriginal people. These groups tell the story of a "clever" woman known as Dirrangun, who is associated with the site and the creation of the Clarence River. Ref.
Photo © Mark Jeffery, with permission
TOONUMBAR NATIONAL PARK
Sitting on the Richmond Range and 14,991 hectares, Toonumbar National Park contains two World Heritage listed rainforests; the Murray Scrub and the Dome Mountain Forest which are part of the Gondwana Rainforests of Australia.
Located 25 km west of Kyogle, and 20 klm east of Woodenbong, this park is mostly undeveloped, however facilities are provided for camping and picnicking.
Car touring and bushwalking give access to pristine rainforest comprising booyong, figs, flame trees, hoop pine, rosewood and over 400 species of flowering plants. Keep a sharp lookout for tiger quolls and Coxen's fig parrot.
The region is noted for its unique and complex natural environment. Much of this complexity is due to activity associated with the Focal Peak Volcano which was active some 23 million years ago. The eroded volcanic remains of Mt Lindesay, Dome Mountain and Edinburgh Castle dominate the landscape today, and have provided the inspiration for many local Aboriginal legends and beliefs.
For thousands of years these volcanic ranges have attracted high rainfall, which combined with rich soils, has allowed rainforests to grow and flourish.
Contrasting climate and a mosaic of forest types provide even further diversity to the park where plants and animals from drier cooler habitats may be found close to subtropical species. It is this outstanding diversity and species richness that has led to these areas being recognised for their World Heritage conservation value.
More than 400 species of flowering plants may be found in the park. The rainforest is dominated by a high canopy of booyong, strangling fig, Moreton Bay fig, hoop pine, giant stinging tree, flame tree and rosewood. Below the canopy palms, ferns, vines and orchids thrive in the dappled light.
The park is an important refuge for many animals including more than 100 species of birds and a wide range of mammals, reptiles and frog species.
The park is also home to more than a dozen species of animals that are considered threatened species, such as the koala, tiger quoll, Albert's Lyrebird and Coxen's fig parrot. Ref.
TWEED HEADS HISTORIC SITE (MINJUNGBAL) (8ha)
Covering eight hectares, the site preserves an Aboriginal Bora Ground, with a walking track leading to a mangrove boardwalk along the Tweed River, and picnic area with tables, electric barbecues and toilets for visitors.
Reach the centre by turning into Kirkwood Road off Minjungbal Drive at South Tweed Heads.
The Minjungbal Aboriginal Cultural Centre with Aboriginal museum and gift shop is open from 10am-3pm, Monday to Wednesday, $15 per adult, $7.50 concession and children.
Indigenous guides are available by arrangment, for guided interpretive tours through the museum and site, with its relics, flora and fauna, for private tours and small groups, with school groups and special interest groups of 20+ are also welcome. For further information telephone (07) 5524 2275.
WOLLUMBIN (MOUNT WARNING) NATIONAL PARK (2,380 ha)
Closed park: Wollumbin (Mount Warning) summit track will remain closed pending the development of a Memorandum of Understanding and further joint management arrangements, with future management of the park to be guided by Aboriginal custodians. (NSWNPWS Last reviewed: Fri 30 Jun 2023, 5.48pm)
Parts of Wollumbin National Park, excluding Wollumbin Mount Warning Summit track and Aboriginal Place, have now reopened. This includes Korrumbyn Creek picnic area, Lyrebird walking track, and visitor facilities at Breakfast Creek. Please note there is limited parking available.
Gates will be shut at night (5pm winter, 6pm daylight savings time).
See also Big Volcano Visitor Guide - Campgrounds.
---
This park protects the mountain summit of Wollumbin-Mount Warning, an iconic landmark of the Northern Rivers region. The mountain is the remnant central vent of an ancient volcano, and has a dual name 1.
Named "Mount Warning" by Lieutenant James Cook in 1770, as a warning to seafarers of the numerous treacherous reefs along the coast, to the Bundjalung people for many miles around, the mountain is also called Wollumbin by some, and remains an important sacred site*.
Mount Warning was originally gazetted on 22 February 1928 as a reserve for public recreation. This continued until Mount Warning National Park was gazetted on 14 January 1966. Small additions following in 1972, 1984 and 1989, over former water supply and crown reserves.2
In 1986 Mount Warning National Park was inscribed into the Australian East Coast Temperate and Subtropical Rainforest Parks World Heritage listing.
The latest change happened in 2003 when Wollumbin State Forest, which adjoined the western side of Mt Warning NP, was split and dedicated as Wollumbin National Park (about 1,662 hectares) and Wollumbin State Conservation Area (368 hectares) 2, which protected a valuable wildlife corridor to Mebbin National Park.
Notable features included the well known local landmark - the 720 metre Brummies Lookout, and Amaroo Flora Reserve, which had been World Heritage declared in 1994, as part of the renamed CERRA World Heritage properties listings of the region. These features are no longer accessible to anyone but the hardiest bushwalker with local knowledge.
Mount Warning National Park and Wollumbin National Park were combined in August 2009 by NSW NPWS. The two parks are now effectively one, and the entire park area is officially known as Wollumbin National Park, with the central peak now carrying the dual name Wollumbin-Mt Warning.
Korrumbyn Creek Picnic Area, with BBQs, picnic tables and toilets, is located about 1.5kms down the road from the commencement of the walking track. Access to the park is signposted to Murwillumbah- Kyogle road via Murwillumbah and Uki.
Lyre Bird Walk
For those less inclined to attempt the climb, the Lyre Bird Walk is a 500 metre stroll from the parking area to an elevated viewing platform looking out over the rainforest and Breakfast Creek. Picnic tables offer a pleasant place to enjoy a sandwich while taking in the sights and sounds of the rainforest.
Please note there is limited parking available.
Gates will be shut at night (5pm winter, 6pm daylight savings time).
Summit Trek
Wollumbin (Mount Warning) summit track and Aboriginal Place remains closed (details above).
In the Mount Warning section, an 8.8km round trip trek leads from Breakfast Creek parking area and winds through ever-changing rainforest communities to eventually reach viewing platforms atop the summit*.
The climb is on average, a five hour trip with the last section being very steep.
There are no facilities on the summit - camping and fires are not permitted here or in any other area of the park. An information board about the park and summit climb is situated near the stairs at the start of the summit track. Toilets are located opposite the car park.
* 20 May, 2003; Courtesy NSW NPWS - "Wollumbin is a sacred place of great significance to the people of the Bundjalung Nation. It is a traditional place of cultural law, initiation and spiritual education.
Under Bundjalung law, only specifically chosen people are allowed to climb Wollumbin. Out of respect for their law and culture, the Bundjalung ask that you consider choosing not to climb."
New 29/11/2022: Indigenous elder's fury as an entire mountain is deemed an Aboriginal 'men only' site - closing off access to important ancestral women's areas Elder Elizabeth Davis Boyd, the authorised representative of the Ngarakbal Githabul women, fears she and others will be denied access to their ancestral lore sites on the northern slope of Mount Warning. [...] 'The Ngarakbal Githabul women have not been included in any of the consultative process in regards to the management or closure of Mount Warning. 'The state government's administrative decision to permanently close Mount Warning not only contravenes my customary law rights and women's rights and human rights – but also my cultural responsibilities to the Gulgan memorial.'
References and Readings
New

Wollumbin Mount Warning NP: Indigenous elder's fury as an entire mountain is deemed an Aboriginal 'men only' site, Daily Mail Australia online, 22/11/2022, retrieved 29/11/2022.
Mount Jerusalem National Park - Tweed Byron Hinterland Trails, from extract retrieved 29/03/2021: https://www.environment.nsw.gov.au/topics/parks-reserves-and-protected-areas/park-management/community-engagement/walking-tracks-and-trails-in-national-parks/tweed-byron-hinterland-trails
Springbrook National Park - Numinbah section, from extract retrieved 2017/10/04 https://www.npsr.qld.gov.au/parks/springbrook/culture.html#numinbah_section
Wollumbin National Park 1Duel name: http://www.environment.nsw.gov.au/NationalParks/parkHome.aspx?id=N0183, Retrieved 2012/05/24, 2Wollumbin State Conservation Area: Plan of Management – Parks & Reserves of the Tweed Caldera 2004, and National Park Estate (Reservations) Act 2003 No 24 http://www.legislation.nsw.gov.au/
Cape Byron Marine Park, extracts from NSW NPWS http://www.environment.nsw.gov.au/NationalParks/parkHome.aspx?id=M0004 Retreived 2012/06/04 and http://www.nationalparks.nsw.gov.au/npws.nsf/content/Northern+Rivers+Region?Opendocument Cape Byron Marine Park Retrieved 2004/12/05
Tooloom Falls Aboriginal Place, from brochure "National Parks Guide - Richmond Tweed" May 1999 and Atlas of Aboriginal Places Tooloom Falls retreived 2014/12/27
NightCap National Park, Whian Whian SCA Micsellaneous publications and NSW National Parks Retrieved 2012/05/24
Miscellaneous from NSW NPWS Visitor Guide Northern Rivers Region - National Parks and Reserves. Unknown
Mebbin National Park. Ref. State Forests of the Far North Coast brochure, Forestry Commission of NSW 1991 and extract NSW National Parks Retrieved 2012/05/24
Extract Mount Barney National Park © courtesy (QLD Department of Environment and Resource Management) Retrived 2011/07/14
Koorelah, Toonumbar and Tooloom National Parks some extracts courtesy http://www.cleanandgreen.com.au/ Retrieved 2010/01/06
Extract Springbrook National Park QLD - P&WS, Springbrook/Natural Bridge Section Office, Ranger South Coast, South East District Southern Region, 2008
Arakwal National Park, some information courtesy of Byron Bay Community and Cultural Centre 2005
The Gold Coast Bulletin, South-east Queensland walking tracks, Feature - Thursday, 2000/06/22
Executive Officer of CERRA property, Grafton NSW, 1999
Various brochures by the National Parks and Wildlife Services of New South Wales and Queensland 1997-2013
*"Tree Museum" lyric: from "Big Yellow Taxi", Joni Mitchell, 1970