Lennox Head, NSW, 2478
Sun, Sand and Surf
by Jo-Ann Palmer.
Very handy to Ballina and Byron Bay, Lennox Head (NOT Lennox Heads) is a beach resort town with about 6,100 permanent residents, situated at the southern end of Seven Mile Beach.
Surfer sunset Photo © Big Volcano
Visitors are attracted here by the great weather, incredible scenery and splendid beaches, famous for their surfing and fishing.
This is a place of wide open spaces and vast vistas.
Just start start walking north along Seven Mile Beach towards Broken Head, if you want to feel a bit lonely.
At the northern end of the town, Lake Ainsworth is reknowned as a freshwater recreational area ideal for families, just 50 metres across from the beach.
Big Volcano Supporters

Accommodation Directory
Accommodation in Lennox Head and nearby
Hint: Mouse over for external site description. External links open in a new window.
Search Lennox Head accommodation via booking.com, or book direct from selected Booking.com links below
Lake Ainsworth Sport and Recreation Centre
Moana Retreat
Local Tours & Attractions
Ballina Naval & Maritime Museum
More Tours & Attractions
Book tours and activities direct via wotif.com
from selected tour operators below.
Aboriginal Cultural Concepts
Cape Byron Kayaks
Foodscape Tours
Local Knowledge Tours
Walk North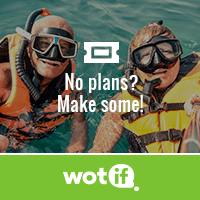 Accommodation
Accommodation includes motels, holiday flats, caravan park, backpacker hostel, holiday apartments and resort style complexes. Local real estate agents provide holiday rental services.
Al fresco cafes and restuarants almost outnumber the accommodation choices, so if you're into a total "do-nothing" and completely relax holiday, this is the place do it!
Attractions
Most tours operate from Byron Bay to the north. See our Local Tours & Attractions listings below for a sampling of the wide variety of available options.
Lake Ainsworth: Just 50 metres from the Pacific Ocean, Lake Ainsworth is a unique fresh water lake, with a characteristic dark tannin colour which comes from the leaves and roots of the ti- trees overhanging and surrounding it.
It is a very popular swimming and sailing spot for families and visitors, with catamarans and wind surfers for hire during holidays and most weekends. Facilities include a picnic area, BBQ facilities, car park and public toilets.
The equally popular Lennox Community Market is held here on the 2nd and 5th Sunday of the month, with locals and visitors alike flocking to stock up on local produce and hand made gifts, and treat themselves to local cuisine.
Lennox Head Aboriginal Area: Located in Gibbon Street, an Aboriginal bora ground and sacred site is situated in the heart of Lennox Head. Only one of the two bora rings originally on the site remains, and the earthen mound defining it is clearly visible.
The bora ground is tangible evidence of the rich Arakwal culture and was used for ceremonial purposes and as a male initiation site. It remains a significant sacred site for the Arakwal and Bundjalung people, and protects part of the region's coastal heath and melaleuca plant communities.
Lookouts
Lennox Head
As with many other coastal headlands in the region, good bird watching is available at any time, but in Spring an explosion of heath land wildflowers attracts birds in greater numbers, including Golden-headed Cisticolas, Red-backed Fairy-wrens, Superb Fairy-wrens, Brown, Scarlet and White-cheeked Honeyeaters, Tawny Grassbirds, Little Wattlebirds, while Brahminy and Whistling Kites soar on the rocky cliff updrafts. An off street car park is available.
Pat Morton Lookout
Named after one of Lennox Head's pioneers, coastal views stretch north to Byron Bay, with Cape Byron featuring prominently.
It's also a great spot for whale watching during their seasonal migration, or you can admire the hang gliders doing their best to imitate the Sea eagles and Brahminy Kites, who sometimes almost seem to delight in showing off how it's really done. Picnic and barbecue facilities are available.
Flat Rock south of Lennox Head Photos © Big Volcano
Rainforests and Reserves: The rainforests are accessible either via the Pacific Highway or an extensive choice of rural roads, for those who enjoy scenic drives.
Broken Head Nature Reserve is 10 minutes drive to the north, or you can take a 4 wheel drive tour with a National Parks approved or ecotourism accredited tour operator to the World Heritage listed Border Group of the Gondwana Rainforests of Australia, only an hour's drive away through the pastures and macadamia plantations via Mullumbimby and Nimbin.
Seven Mile Beach: Sweeping north toward Broken Head, Seven Mile Beach is characterised by sand dunes and coastal forests, some of which are listed as endangered ecological communities.
Coastal heath is dominated by banksias and wild flowers, which bloom from late winter through to summer. These, along with stands of scribbly gum and paperbarks, attract large numbers of insects, birds and native animals to inhabit the area. Facilities include a picnic area, BBQ facilities, car park and public toilets.
Scuba Diving
Cape Byron Marine Park covers approximately 22,700 hectares, extending from Brunswick Heads in the north to Lennox Head, and from the mean high water mark to three nautical miles offshore.
Popular for snorkelling, "The Moat" is a sheltered, shallow and accessible inter-tidal area along Seven Mile Beach, where diverse marine flora and fauna communities live.
For scuba divers, the relatively little known Lennox Pinnacles is comprised of "a number of rocky reefs covered in kelp and sponges from 12-15m. Careful observation reveals nudibranchs, flatworms, sea stars ... and other molluscs, while the reefs support a large population of fish — morong, ... wobbegong, blue gropers, stingrays.., along with an interesting assortment of tropical reef species." © Fielding's Diving Australia 1997, p129. ISBN 1-56952-139-5
Surfing:
Surfers come year round for the beach and point breaks, and it's one of the reasons there are two major surfing competitions held here each year.
Seven Mile Beach and Skennars Beach offer left and right beach breaks from 2-2.5m on a sandy bottom, while the point is a challenging right hand break up to 4m on sandy/rock bottom, with "Boulders" offering similar conditions on a slightly smaller (to 3m) swell.
Skennars Head Photo © Big Volcano
Getting to Lennox Head
Road
Getting to the region is easy: Lennox Head is approximately 780 kilometres - about 10 hours drive north from Sydney and about 90 minutes drive south from Brisbane, via the Pacific Highway.
Driving options include the Pacific Highway in New South Wales, and Pacific Motorway from Queensland.
Air
Domestic flights operate from all capital cities to Ballina/Byron Gateway Airport and Gold Coast Airport at Coolangatta. A number of international carriers servicing SE Asia, New Zealand and the Pacific fly into Gold Coast Airport.
Intrastate flights are also available to Lismore Airport, with all airports having airport car hire or other car rental services available nearby.
Lennox head is well serviced with daily airport transfer services between Ballina/Byron Gateway Airport and Gold Coast Airport, with some shuttles also available to Brisbane International Airport. Visit Gold Coast Airport Transfer Services for more information.
Coach/Rail
Countrylink interstate coach stops at Alstonville, Ballina, Lennox Head, Wardell and Wollongbar for rail connections to Brisbane, Sydney and Melbourne, and connecting with daily or overnight train service from Sydney to Brisbane via coach transfer to Casino.
Google Ads